April 27th 2013 Posted at Biking
Comments Off
A little bit more than a year ago I was failing to bicycle to work as much as I prefer.  I've been a very regular bicycle commuter ever since my undergraduate days in Milwaukee, and at one point I rode at least once a week through 5 years of Chicago winters.  When I first arrived in Santa Barbara, I was riding out to campus almost every day without exception. Then we moved a couple miles further away, and 10.5 miles each way on a heavy upright Dutch-y bike was simply taking too many hours out of my day.  It was long enough that a Rec Center shower was pretty important, making my total daily commute time something like 2.5 hours when adding in the personal grooming.
Then dear Wheelhouse went out of business. And the electric bikes went on clearance.  I had test-rode (test-ridden?) one during one of the store's many public events, and I was already curious about them because they are so ubiquitous in China, and they seem like great solution for getting around town while neither breaking too much of a sweat nor burning any fossil fuels.  The Chinese version is closer to a scooter than a bicycle:
These often these have pedals both for helping the batteries uphill and for helping the rider home when the battery dies.  You rarely saw anyone pedaling. What I settled on is closer to a bicycle.  It's the eMoto VeloCity 2.0 that I have taken to calling my Batman Bike: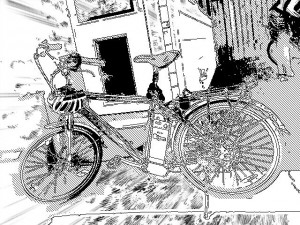 It's a pedal-assist bicycle that carries its battery right behind the seat tube, which drives the electric motor on the rear hub.  There's no throttle:  just high- and low- modes.  The harder I pedal, the harder the motor works.  Once I get up to about 13 miles-per-hour (15.5 in high-power mode), the battery cuts out and it becomes all me.  It's super-interesting as the motor kicks in and out, helping me to maintain a near-constant cruising speed that's a very different muscle sensation from riding a regular bike.  Now when I get back on a fully manual bike, it takes me a minute or two to adjust to the rhythm of regular pedaling.  For the first several strokes, I can feel each quadricep fire off sequentially, one after the other.  It's a very weird feeling.
For the ride out to work, it's great.  The bike takes much of the work out of standing starts and climbing hills.  The net effect is that my strenuous hour-long bike ride has turned into a 40-minute moderate exer-cycle session–I'm still getting my heart-rate up, but I'm not huffing and puffing.
I was told to expect the battery to last about a year with my level of daily use, and indeed it is now starting to lose its range. Just last week I started carrying the charger to work.  This makes Erik's prediction almost spot-on, as I took about 3 months off late last year due to a middle-age issue that kept me out of the saddle.  L met the remaining local distributor a few weeks ago and he issued a warning that a battery replacement might be hard to come by, as the form factors are changing with new models.  This was a bit disappointing, as one of the sales points was that each year the batteries would become more powerful,cheaper, and lighter, even while the form factor remains the same.  I'm going to be very annoyed if I can't get a new battery. Maintenance-wise, it's been a no-brainer.  I was worried about repairs, but so far Cranky's has been able to handle everything I've thrown at them.  All the parts except for the rear hub are standard bike parts–just as promised. The bike has been a joy, and I'm keeping my fingers crossed on getting that new battery.  Because at the end of the day, being electrically enhanced makes me feel like Batman.