Spring was good to this blog.  Summer and fall not so much, as I took on new responsibilities at work.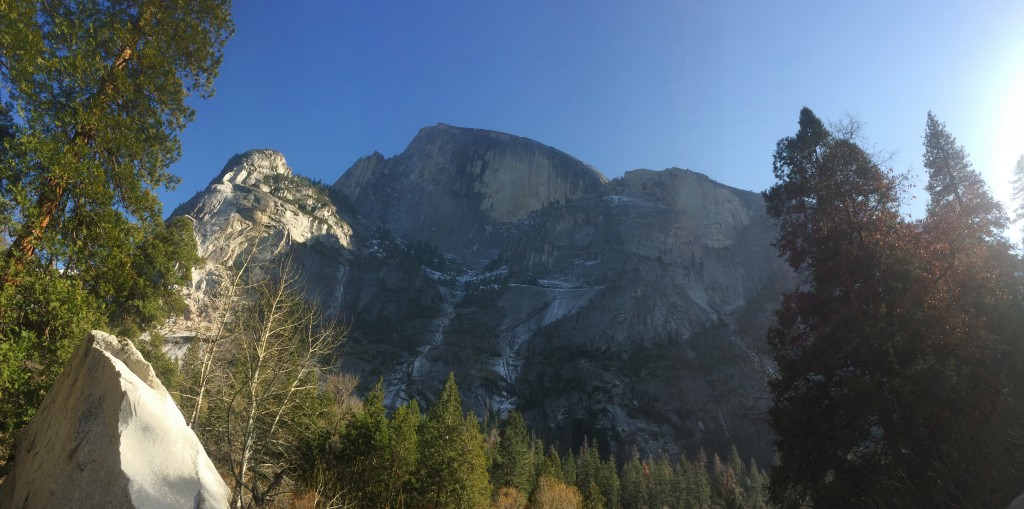 Thanksgiving, I have many thanks to give.  L and I spent it together in Yosemite, walking in one of America's signature landscapes.  While we miss our extended families, being in Yosemite felt like a very American thing to do.  Photos show Teddy Roosevelt and Ansel Adams, and a host of known and unknown figures.  First Peoples in Ahwahnee Village (and I'll be damned–how was a private concessionaire allowed to trademark the name of a village?), mostly unnamed in the photographs I looked at, but surely some of those Native Americans were properly named.  I would hope.
I ate turkey loaf in a cafeteria with British immigrants.  Guest workers?  I didn't check their papers.
We speculated with a group of four young South Asians about whether people brought their own horses or if there were–I don't even know what you would say.  Rentals? The woman in the group seemed especially amused when I said "Maybe it's BYOH."
There were many, many Chinese families.  Groups of students, small and large.  Small tours, complete with a flag-waving guide and a stunning quilted pink puffy short suit.  Extended families with ABC's and new arrivals, obvious cousins, obviously loving each others' company.
Not nearly enough black people, although while talking with the bartender about his incredible Michigan accent, he pointed out a woman and said, "You should hear her talk. She's from South Africa. Amazing accent."  Still, despite the stereotype that African-American people don't camp, they were there.
Cholo dads.  Emo kids.
Really, people of every stripe.  A real healthy slice of melting pot.  Fancy hotel next to tent camping next to tent cabins–all within walking distance of each other–added some economic diversity too, but we agreed that just being there as a guest showed a certain amount of economic achievement.  And fancy hotel.  The 1% was for sure represented.  I had no idea that was there.
I admired some parenting skills, but also winked at L when witnessing whining and meltdowns.  We know enough to know those happen in every household.
The sheer variety of people almost overshadowed the landscape.  And I frequently found myself admiring that.  This is what we're about.  People visit from all over the world to admire us.  And we should welcome anyone who moves here and hopes to make a contribution.
If they are fleeing war and oppression, then we should wash their feet at the airport.
Most everyone seemed to be giving everyone else their space.  We struck up few conversations, but I keep thinking that was more our mood than theirs.  I keep looking for some change in mood after the election.  Facebook has certainly changed. And the news.  But I live in this big bubble.  I don't read the daily paper, and even if I did, I'm not even sure what it would be.  The LA Times?  It certainly wouldn't be my local.  Most of what I click on is New York Times and Washington Post, but rarely do I go directly to the sites and look at all the stories.
Even a quick skim of the paper headlines used to give me a broader view of what is happening in the world.  All the short articles on foreign affairs, emerging technologies, business trends.  Plus all the long-form journalism that I rarely slog through anymore.  I think I have become a lazy news consumer. A new Stanford study shows I'm not the only one.  Most kids can't tell fake news from real.
Except for now something has changed for me.  At least I hope it has.
The news is grim, and it gets grimmer.  Syria has been hard to even stomach, but it's so easy to ignore from here.  The refugee crisis is Europe has been silenced by the election and pipeline protests.  And post-election, the targeted acts of violence and hate speech have sat in my craw, gnawing at me, making me seethe.
And it all makes me want to double my efforts at being a good person.  Make a positive contribution.  I feel like I have been very lazy.  It's time to get busy.