February 26th 2012 Posted at Awesomeness, Reading
Comments Off
I'm really glad that some simple things make my girlfriend happy. She was perfectly happy to sit in the car and be driven two hours on Sunday to an undisclosed location in downtown LA. When we arrived at the awesome Spring Street Arts Tower and walked into the even awesome-r The Last Bookstore, she smiled and said 'oh.' And off we went.  She did suspect we were heading to an indoor market when she realize I had brought and empty tote bag. What else would you bring to a Zine Festival?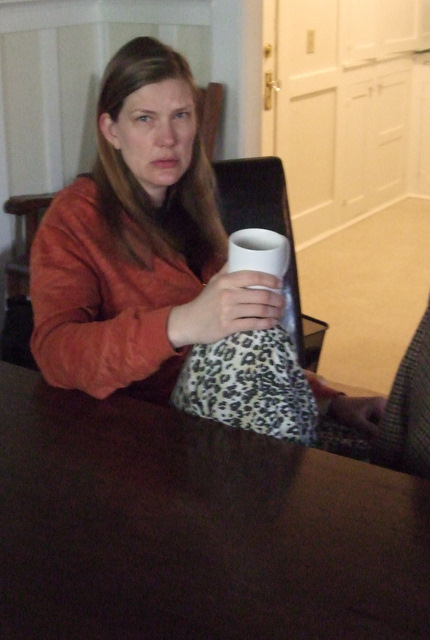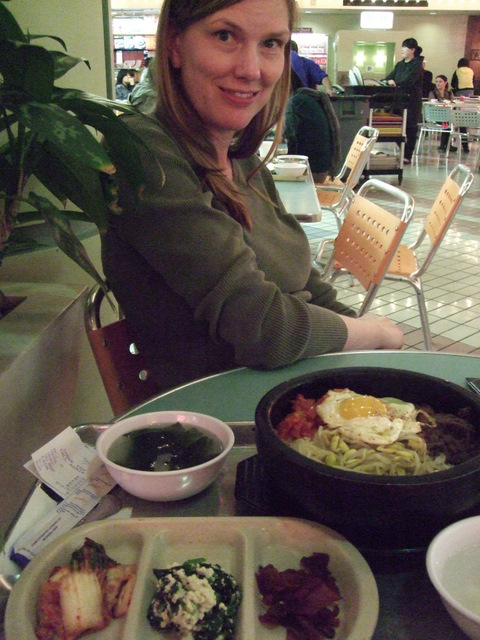 We had a great afternoon with no plan whatsoever. When we decided we were finished, we weren't hungry, so we made no dinner plans. Knowing that a bathroom break would be needed eventually, I decided to take surface streets generally west towards the 405. Along the way, L said 'oh look, it's Koreatown.' So International Food Court for dinner! Look how happy I made her!
I had so many great conversations, and saw so many awesome homemade publications, that I can't possibly describe them all. (And four days later I can't be expected to remember them all, can I?) What I'll give you is the people that I bought things from.
We put ourselves on a budget, but I don't think either one of us came close to spending it.  Because I was feeling cheap and chatty, I decided to make sure to take a photo of everyone I gave money to.  Maybe I should have expanded this to anyone who gave me something or people I chatted with –but this would be a huge-ass blog post for that (or maybe it would be a photo album instead).  Some people were trading (and I got the impression that everyone was open to a trade), but I didn't make anything before going.  Now I'm totally inspired!  The folks at [Open] (check it out:  it's an awesome looking bookstore in Long Beach) traded a zine for an email address.   There were lots of other freebies too. I met Clutch McB(!), and L went back to his table a little later to pick up copies of Invincible Summer/Clutch that we don't already have (I knew she'd remember). Unfortunately, because L made the purchase, I didn't get a photo. But I did get a shot of everyone else who I gave money to on Sunday: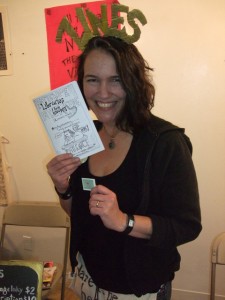 Ayun came from New York. Actually–there was a huge Brooklyn contingent. I think maybe they chartered a plane. Ayun was one of only a handful of zinesters who were of a similar vintage to me. She's visiting her (college aged!?) kids here in California and working on an actual paid writing gig. She had a number of other offerings, but this library-themed title really caught my eye. For a while I thought I would concentrate on buying only zines with libraries but I think that would have been a bit specific. There was a great horror comic that included a grisly circulation desk scene, but I passed on it.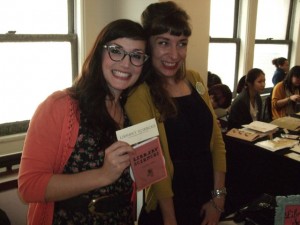 These lovely ladies were totally dressed to sell their ware–a single audio zine. Three songs by each, the zine is essentially illustrated liner notes. I haven't listened to the accompanying CD yet, but it is known to include xylophone. They had a great table and were really excited. Please note: these are not actual librarians, but I think maybe they want to be. Really: how could any librarian pass this up?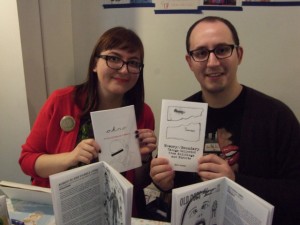 Finally: this handsome couple. What I scored: from him, a zine inspired by Davey Rothbart's Found, this zine speculates about the owners of items that Matt has found lying around. From her, Kseniya, her own CraigsList W4M ads and the first emails from potential suitors–including ones that that don't seem interested in a date, but DO seem interested in getting their emails into a zine. And yes, Matt's is one of the emails. Stupendous!
Finally, there are two others that I feel a need to talk about. I chose not to give money to The Doktor Is In. She had a small title on offer for free/donationMy Stay in the Mental Hospital. I was very curious about her interview zine, but for some strange reason the mental hospital title and her multiple zines about living with social anxiety had me paralyzed. I told L about her at lunch, and she promptly returned and wound up buying one of everything. Who has the social anxiety now?
She was awesome–what better way to overcome your social anxiety by writing it down, putting it on display, and having 1500 people walk by and talk to you about it?
My last conversation of the day (well, with a vendor at least) was with Andrew Chapin. Andrew is the stepson of Steppenwolf drummer Gerald McCrohan/Jerry Edmonton. Turns out, dad would often leave illustrated notes on the kitchen table for Andrew, and somehow wonderfully they got saved. He has compiled these into a children's book. We had a really nice conversation about choosing good literature for little kids and I told him a bit about the Chinese childrens libraries. Maybe we could get this translated as an example of creative parenting?
Both comments and pings are currently closed.