May 15th 2012 Posted at Libraries
Comments Off
Other than looking at a computer screen, it looks like this when I go to visit my offsite storage.  This is 9″ wide film: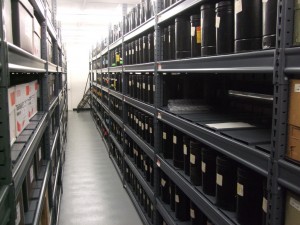 And this is 1 of 3 rows of map cases.  I counted them up last night:  there's not as many as I thought: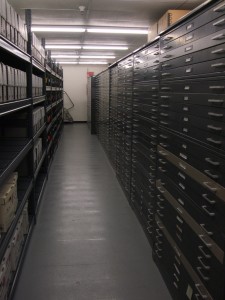 I'm in danger of losing some storage space–which is kind of mucking up my plans.  I had a strategy to decrease the size of the collection, but keep the footprint the same.  I have some serious preservation issues that need to be dealt with.  The main way to deal with them is to take everything out of the drawers, throw away the most damaged, and put everything back in more carefully–just less of it.  The main preservation problem with the paper materials is that they are too crowded together.  Often 30 or 40 maps in a drawer need repair.  I have 1000 drawers.
Another problem is late stage vinegar syndrome in an unknown amount of the collection.  Here's what a dead photo looks like (I flipped the colors, so you're looking at a negative image of a piece of negative film):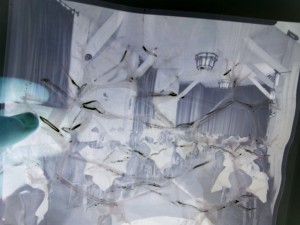 Both comments and pings are currently closed.