I already blasted this out on Twitter and Facebook, but today I can sit down and catch my breath and start describe how the Fairchild Aerial Surveys collection is winding up at UCSB.
(all photos in the post are clickable–I don't want to deprive you all of my phone's full resolution.)
On Wednesday of this week, I spent the day starting to organize the collection for its move.  Every time I have picked up collections in the past, it was always less than a carload (or two), so there was no need to get things in order in situ.  But the scale of the Fairchild Collection, some 750,000 images (as with all big photo collections, no one is really sure), dictates a different approach.  It's a lot of photos.  Here's how the room looked after about 2 hours of sorting:
If you look closely, you'll see several large stacks of prints and negatives.  We'll need to sort those out and refile them before the move.  There's lots of evidence that a boss just walked in one day and sent everyone home.  A small pile of negatives were left sitting in the window, so they have expired (all the way to the bottom of the pile: 2 years in the sun will do that to a piece of photographic film kids–it's light sensitive).  This DVD also got a little sun: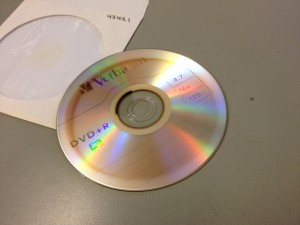 Let this be a lesson to you bosses:  if you're going to lay someone off, either give them a chance to tidy up before you escort them out or have someone do it the next day.  But to tell you all the truth:  I learned this lesson about optical media the hard way myself back in Oregon (where I had a lovely view from my office window).
The room is literally like a time capsule.  There was a stack of items that look like they were out for duplication when the service closed.  I'm happy that the darkroom returned the stack of materials, but I wonder if they jobs were every delivered.  A whole bunch said 'super duper rush!' on them.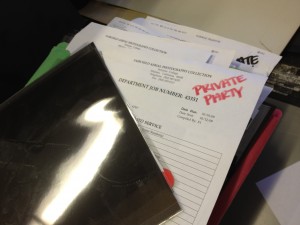 All in all, everything I looked at in the room was intriguing:  a low-altitude oblique image from London in the 1940s; camera backs that still have film in them (oops. But really, am I going to send 5″ wide roll film to the chemist for processing?); a case full of DVDs that appear to have entire flights scanned.  And a few vintage pieces of Americana.
There is a lot more to tell, and I'll do my best to keep the story up to date as we move the collection up here to Santa Barbara.  I really appreciate the support that I received from across campus and across the country for this acquisition.  The least I can do is tell you all about it.